This has been a long week of module review for my course. Today was a comprehensive review before practice exams start tomorrow. I did have yesterday (Saturday) off and it was perfect since it coincided with the
Knowledge and Needles
Nashville open house. First though I had to head to the Campbellford Legion to play darts with my hubby, my MIL, and another dart friend. Unfortunately we didn't get to go on. This did mean I could head to K&N quicker though.
I was greeted by
Ann
and then followed the laughter to find
Christin
, Tracey,
Dani
, and Sharon all stitching away. I did a quick look at the new goodies and went back my car and grabbed my stitching bag. I pulled my 4 seasons out, but didn't really get much done.
Beatrice
also stopped in and although she didn't bring her stitching, she stayed around and chatted with us.
I ended up getting some nice patterns. I had a crazy headache (stupid PA system at legion was malfunctiing) and didn't feel like looking through fabric like I wanted to.
Below are the new pattens I got (pics stolen from net)
Ink Circles - Rosetta
Ink Circles - Nut Jobs
Ink Circles - Wild Berries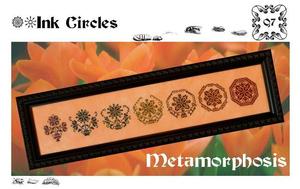 Ink Circles - Metamorphosis
JBW - French Country Strawberry
After we all settle up with Ann, the 5 of us (Dani, Christin, Beatrice, Tracey, and I) decided to go to the newly opened Lone-star for Dinner. I guess a ton of other people also had that idea and it was going to be an eighty minute wait. I DON"T THINK SO! We decided to do Montana's instead.
After, at Dani's suggestion we split a Mile High mud pie. I had not tried this desert before, and I will have to say it was VERY GOOD. Don't believe me? Just look!
Well, back to review! Other than my WIPocalypse check in this week, I don't think I will be posting until after my exam on Friday. Have a great week everyone!